Liv Cooke
was born on 20th April 1999 in Leyland, Lancashire and is a British professional football freestyler and the current world champion.
Liv has always been crazy about football, which she says she got from having two older brothers. As a kid she would play street football with them.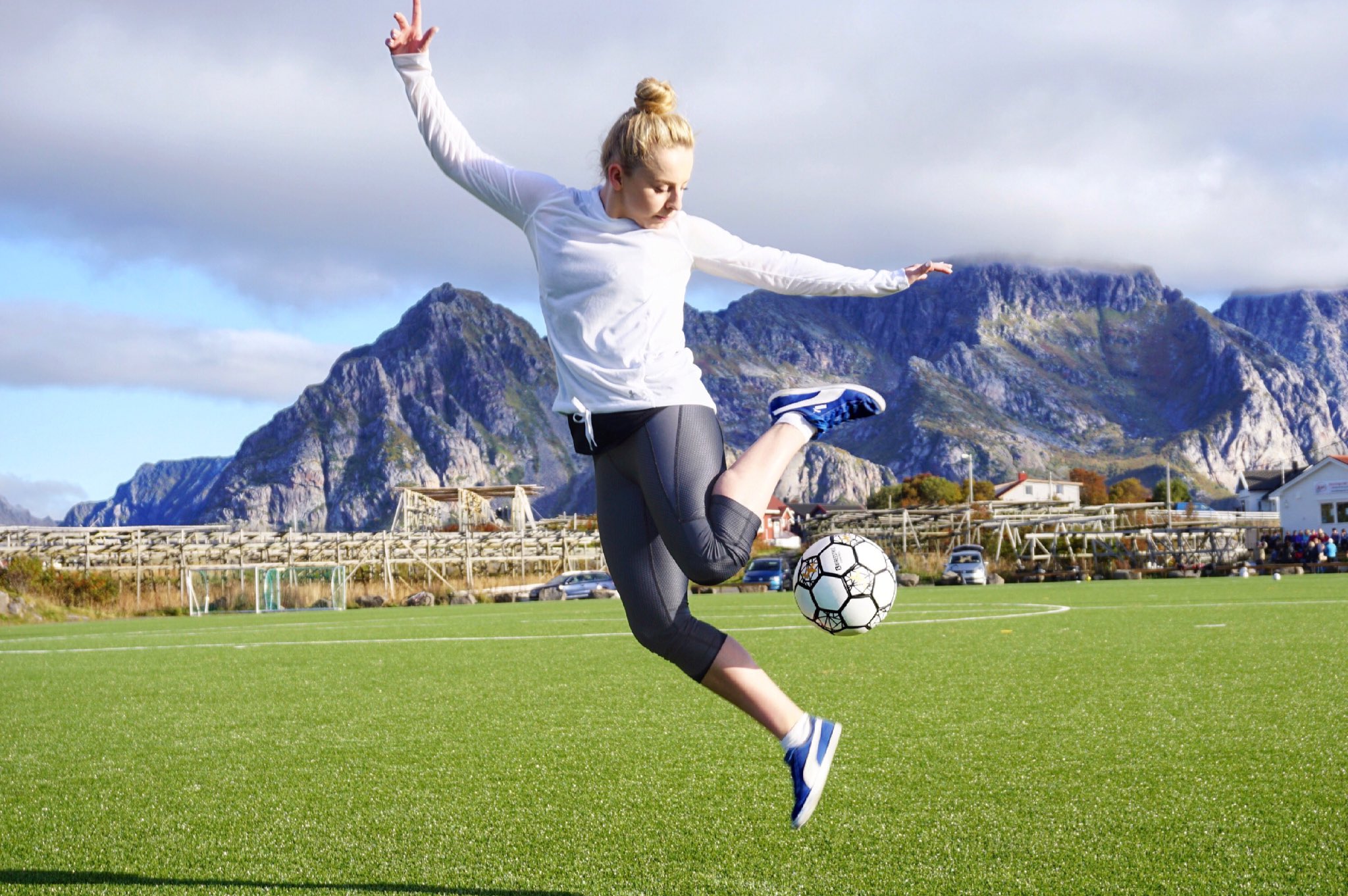 At the age of 10, Liv joined Preston North End F.C. whilst also playing in Woodlea Junior School's football team. Cooke went on to study at Balshaw's Church of England High School, where she captained the girls' football team, and signed for the Blackburn Rovers F.C. Centre of Excellence at the age of 14.
One year later, Cooke was sidelined by a recurring back injury and discovered freestyle football videos online. She began to learn the basics in her back garden and stopped playing football in 2015 to focus on freestyle. In 2015, Cooke performed publicly for the first time at St Andrews Infant School in her local town of Leyland, Lancashire. This was quickly followed by her first professional event, where she performed at a Blackburn Rovers half-time show at Ewood Park.
In 2016, at the age of 17, Cooke left Runshaw College early to pursue a career as a 'professional' football freestyler. Since then, Cooke has become the youngest ever professional football freestyler, performing at events across the globe and working with a number of major organisations.
London
In May 2016, Cooke founded Girl Power FS – the first female football freestyle agency. Having officially launched in June 2016, the company acts as a platform for elite female football freestylers to interact with clients and organise the use of their services for commercials, campaigns, fun days and more.
Liv made her competitive freestyle debut in London in August 2016 at the Red Bull Street Style World Finals, where she placed 6th having been the youngest qualifier.
Later that year, Cooke qualified for the 2016 World Football Freestyle Championships in Melbourne. She finished second, making her the youngest ever finalist. Cooke broke her foot in the final, which ruled her out for several months.
BBC meet Liv Cooke
Source - BBC Sport (BBC3)
Her work has included performing at Qatar's national sports day, becoming an ambassador for the UEFA 'We Play Strong' initiative designed to get more girls into football, and touring Australia to inspire children to get active. Commercially, Cooke has featured in a Channel 4 TV commercial, a number of Adidas commercials, and a LIDL advert. In addition, she has appeared on a number of TV shows including Match of the Day, Soccer AM, BBC and Fox Soccer News.
As a result of Cooke's work, she has won a number of awards including Parliamentary Rising Star and Woman of the Future.
World Championships
Following her injury Liv returned to training in April 2017. In August 2017 Cooke qualified for the 2017 Super Ball open football freestyle championships in Prague.
Once there, she won all of her battles to become the '
World Open Football Freestyle Champion.'