Fernanda Colombo Uliana
was born 24th April 1991 in Brazil and took twitter by storm recently after she served as the assistant referee in a Brazil Cup match last month.
The 25-year-old ran the line during Sao Paulo's 3-0 Copa do Brasil win over CRB on the 8th May 2014.
A few days later Fernanda was then appointed for the first time to run the line of a Brazilian Serie A league match, but the female official found herself at the centre of controversy after she made a match-altering call on her Brasileiro Serie A debut.
Cruzeiro travelled to derby rivals Atletico Mineiro on 11th May, but the 'Brazilian babe' denied the visitors a last-minute equalizer at 2-1 through a questionable offside call.
In response to the decision, Cruzeiro director of football Alexandre Mattos told Globo (a Brazilian television network based in Rio de Janeiro):
"That assistant is pretty, but she's not prepared for this. The fans shout and she gets it wrong. She's pretty but you have to be good at your job. If she's pretty, she should go and pose for Playboy."
By the age of 20, she was the assistant referee FHR and acted on the decision of the
Access Division Santa Catarina State Championship
. Fernanda was the newest in the context of arbitration of the Santa Catarina Football Federation.
She tells how she discovered her passion for the sport, while at University she was a track athlete and her trainer approach her to ask her if she liked football and she said yes. The trainer told her about a course from the federation and she ended up taking it. From that point she became immerse in a world dominated by men.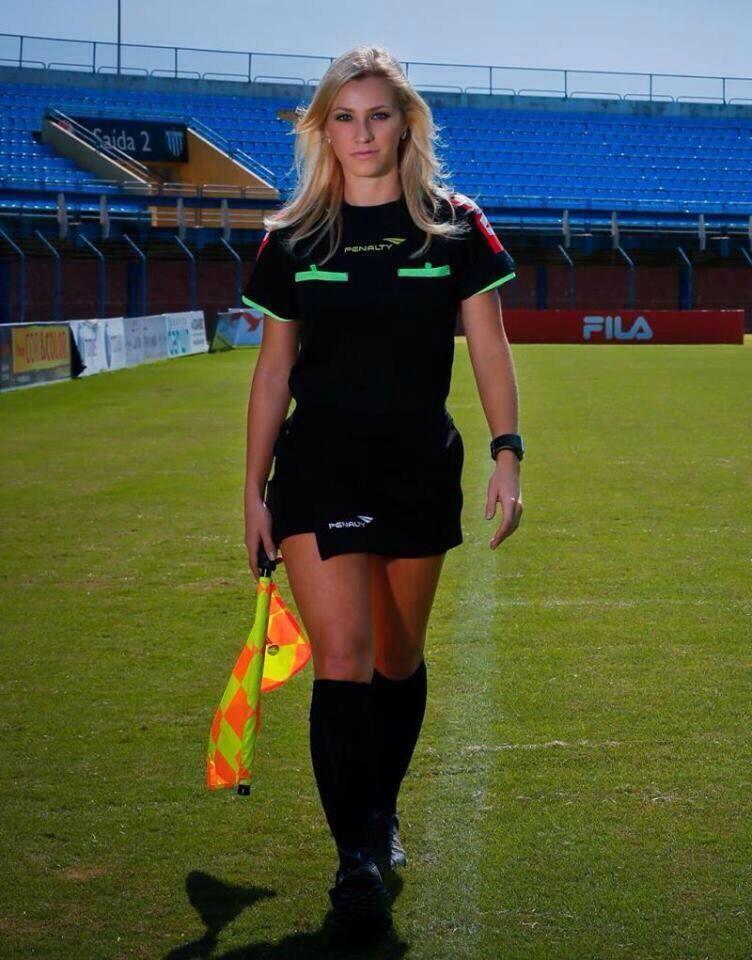 Fernanda has just been granted FIFA official status And rather than regretting the fact that she will now have abuse hurled at her from far larger crowds, she is delighted that her career has moved on to the next level - both for herself, and for women in general.
"It's one more step towards winning people over,"
she told local paper Diario Catarinense.
"It's the result of all the dedication I've shown. Who wouldn't want to receive recognition in their chosen career, after all? For me it's a huge victory."
Her words should not be taken lightly: sexism is far more rife in Brazil than most in Europe would credit, as a look at any football club's website might show - they commonly feature naked models and porn stars to attract fans!
Fernando currently resides in
Florianópolis, Santa Catarina.
She is a personal trainer by profession. She has a Bachelor of Physical Education-UFSC with Specialization in Cardiac Rehabilitation and Special Groups.