Celebrations and gestures made by players are part of every sport to some degree. The joy and emotion of a player is usually obvious, for example after they score a goal in football. Of course, there are players who let emotion or bad judgment take charge in these instances. Arguing with officials and other players, taunting the opposition or making rude gestures to the crowd are all occurrences observed from time to time.
The world of football is no different. For instance, recently West Bromwich Albion striker
Nicolas Anelka,
(right) was involved in a controversy caused by one such celebration.
The French striker attracted criticism when he performed a gesture called a 'quenelle.' Anelka insists the 'quenelle' is an anti-establishment gesture and was done in support of his comedian friend, and 'quenelle' creator, comedian Dieudonne M'bala M'bala. Critics of the gesture see it as reminiscent of the Nazi salute and the FA, English football's governing body, agreed fining Anelka £80,000 and banning him for 5 matches.
Anelka's case raises the question of other footballers who have celebrated or made gestures deemed inappropriate during a match. There are many, but here are some of the most controversial player celebrations and gestures witnessed in professional football.
Goading Fans:
In September 2009, Manchester City hosted Arsenal at the Etihad Stadium. The game was significant as it saw former Gunner,
Emmanuel Adebayor
(below) face off against his old club for the first time since leaving North London. Arsenal supporters were disappointed with Adebayor's departure and by his perceived lack of respect for the club. Having booed and taunted the Togolese striker for most the match, Arsenal supporters were sent into a rage when Adebayor scored in the final 10 minutes and ran the length of the pitch before sliding to his knees to celebrate in front of them. Objects were thrown at the player and a steward was injured in the process. Adebayor was given a yellow card and given a £25,000 fine and a two-match suspended ban.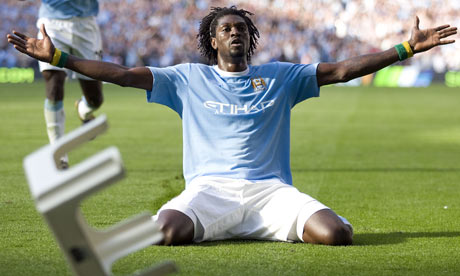 In a similar action to Adebayor, Manchester United defender
Gary Neville
was fined £5,000 pounds and warned about his future conduct by the Football Association a few weeks later, after ran to celebrate a late Rio Ferdinand goal in front of the Liverpool fans at Old Trafford.
The Drug User:
Unsurprisingly, any celebration which appears to suggest drug use is deemed unacceptable by footballs governing bodies. Step forward
Robbie Fowler
.
In April 1999, Liverpool squared off against Merseyside rivals Everton. Before the match, there were reports and accusations by some Everton supporters that Liverpool's Fowler had a drug abuse problem. The Reds' striker responded after scoring a goal by pretending to snort up the penalty area line as if it were a line of cocaine.
The FA fined Fowler £60,000 and banned him for 4 matches.
In the Russian League, Spartak Moscow striker
Emmanuel Emenike
was shown a straight red following his goal celebration against Zenit St. Petersburg. What did he do wrong? Emenike celebration involved slapping the inside of his arm, as if preparing for an imaginary heroine injection. The official deemed it 'obscene' and sent him off.
Northern Ireland's
David Healy
suffered a similar fate in an international match at the Millennium Stadium. Having put Northern Ireland 2-0 up against Wales, he celebrated by high-kicking the corner flag and then indulging in his stock celebration - slapping the muscle on one arm into the palm of his other hand. To Healy it was par for the course, but the referee Domenico Messina perceived it to be an unacceptable gesture. He gave Healy one yellow for that and another for his shaolin on the corner flag. The consequence was one of the most peculiar red cards of all time.
Genital Chomping:
Sevilla midfielder
Francisco Gallardo
was charged by the Spanish soccer federation's disciplinary committee after he celebrated a teammate's goal by biting the player's genitals back in November 2001.
Jose Antonio Reyes made a dazzling run from the halfway line to net Sevilla's second goal in the 55th minute of their 4-0 win over Valladolid.
After Reyes' brilliant strike, the scorer fell to the ground and was immediately besieged by a group of ecstatic teammates. Gallardo ran to join the melee and instead of hugging Reyes, was seen to bend down and take a momentary nibble at the goalscorer's genitalia.
Gallardo was fined and suspended by the Spanish Football Federation who deemed his actions as violating "sporting dignity and decorum."
Handcuff Celebration:
Players often use goal celebrations to make reference to friends, family or events. The rocking arms or thumb-sucking to rejoice in a new baby, or the kissing of the ring-finger to pay tribute to a spouse are common celebrations. Celebrations which are political or agenda-driven are frowned upon by the governing authorities. The 'handcuff' celebration is rare but has been used on more than one occasion. Often to show support for a friend or family member on trial or in jail, this celebration is also used to signify some sort of injustice in the player's life. It is therefore no surprise that players like Everton's
Tim Cahill
in 2008, Chelsea's
Nicolas Anelka
in 2010 and
Salomon Kalou
in 2009, as well as Ipswich's
David Norris
in 2008 all celebrated goals using a little post-goal handcuffery, and were all heavily criticized as a result for their behaviour.
The Fascist Salute:
This is a celebration guaranteed to get negative attention, bans and fines. The fascist salute not only crosses the 'no-political celebration' line, but is also deemed by almost everyone as totally inappropriate. Perhaps the most well known advocate of this celebration was
Paolo Di Canio
. After 14 years away from the club he supported as a child, followed as an ultra and served as a young footballer, a 36-year-old Di Canio returned in 2004 to see out his top-level career, yet his two-year stint with Lazio was anything but a retirement break. During his time with the Serie A side, Di Canio was pictured giving the supporters the salute numerous times. After the third occasion in a year in which he had raised his right arm, palm-downwards, to the fans of his team he faced the full wrath of Fifa, with Sepp Blatter, president of world soccer's governing body Fifa, saying players making fascist salutes should be banned from the game for life.
The negative publicity that Di Canio generated for Lazio, including his intimate relationship with club's ultras and their increased influence thanks to his presence in the team, coupled with problems with some teammates and coaches, exasperated club president and majority shareholder, Claudio Lotito, with whom he already had a difficult relationship. As a result, Di Canio's contract was not renewed in the summer of 2006.
Recently, Greek player
Giorgos Katidis
(right) was handed a life ban from the Greek National team, banned for the season by AEK Athens and fine $82,000 for giving this salute after scoring the winning goal against Veria, in March 2013.
Katidis claims he was dedicating the game winning goal to a friend in the stands. Officials saw it differently!
The Execution:
In recent years, Mexico has developed a reputation for drug and gun violence. In light of this, one would expect soccer players in Mexico to show some restraint when it comes to incorporating anything related to these issues into their celebrations.
Marco Fabian de la Mora
and
Alberto Medina
, both players for Chivas Guadalajara, clearly did not pick up on this point. In their 5-2 win over Estudiantes UAG in October 2011, the two celebrated one of the goals with De la Mora pretending to execute Medina with a gunshot to the head. Both players were fined $3,700. De la Mora stated regret for the celebration and but both men paid double the fine, which was then donated, along with offerings from their team-mates - to an orphanage in Ciudad Juarez, a border town known for drug related violence.
The Golf Swing:
Never too far from controversy in his younger days,
Craig Bellamy
found himself involved in a row with Liverpool teammate John Arne Riise on a trip to Portugal back in
Bellamy made the newspapers after confronting Riise with a golf club when the left back refused to sing karaoke at the team bonding exercise.
Days later, the Wales international was on target against no lesser opposition than Barcelona in February 2007 - as was Riise - and mocked the incident by swinging an imaginary club.
The Hitler Salute:
Yes, I have already had a section related to this type of gesture.
Mark Bosnich
(right) however, took it to a whole new level when his team Aston Villa played Tottenham Hotspur in October 1996. In a career marked with cocaine use, cross dressing sex tapes and cancelled contracts, the Australian-born keeper made many poor choices. One of those took place at White Hart Lane. Bosnich, after considerable taunting from the Spurs' supporters, simulated a mustache with his finger and gave the crowd a Nazi salute. As Tottenham have a significant Jewish fanbase, the action did not go over well with the crowd. Surprisingly, the punishment was very lenient in today's terms. The FA labeled Bosnich's actions as "an act of stupidity," yet only censured the keeper and fined him $1,500. Given Anelka's 'quenelle' punishment, one wonders what Bosnich would have received in today's game.
The Mock Flute:
What could be worse than Nazi salutes, drug and execution simulations and the biting of a teammate's privates? How about an act that insults fans, aggravates religious tensions, and results in death threats by the IRA?
Glasgow Rangers versus Celtic is one of the fiercest derbies you will find in football. The two Scottish teams are historically divided along political-religious lines with Republican/Catholics traditionally supporting Celtic and Loyalist/Protestants following Rangers. In January 1998, Rangers midfielder
Paul Gascoigne
tested these divisions by simulating playing a mock flute, a symbol of Loyalists and the Orange Order. The midfielder had done the gesture in 1995, but never at an Old Firm match. Unsurprisingly, Celtic supporters and Catholics did not take well to it. In addition to being fined $33,000 and disciplined by his club for the incident. 'Gazza' also learned from this mistake. Specifically, he learned from the local police how to check mail and look under his car for bombs left by the IRA.