Every once in a while a special football team comes along which stands out from the rest. Currently, in the Union of European Football Associations (UEFA) one could argue it's Bayern Munich of the Bundesliga. In the past, others have included: The 1991-1992
AC Milan
side that went 58 matches unbeaten in Serie A, The 'Invincibles' of
Arsenal
who went 49 games unbeaten and won the 2003-2004 Premier League, the treble winning
Manchester United
team of 1999 and the treble winning
Barcelona
team from 2009. These were all great teams and great seasons, but by themselves do not constitute a sports dynasty.
Judging the 'greatness' of a club can be a very subjective issue. In the case of the clubs listed here, European success is the primary measurement of a team's dominance. That said, domestic success, consecutive titles and the duration of the 'dynasty' also factor into how a club is ranked and can help break any ties between teams.
Here are a list of some of the greatest football club dynasties to have existed in Europe over the last sixty years:
Bayern Munich 1974-1976
While the current Bayern Munich side look like they are on their way to building a new dynasty, it was the team of the mid-1970s that made the headlines. Coached by Udo Lattek and Dettmar Cramer, Bayern picked up where the great Ajax team of the early 1970s had left off. The squad contained many German International players, notably sweeper
Franz Beckenbauer
, defender
Paul Breitner
, strikers
Gerd Müller
and
Uli Hoeness
and goalkeeper
Sepp Maier
. Unlike the other teams on this list, domestically, Bayern Munich were not overly successful during their dynasty period, winning only a single League title. What more than makes up for this are the three consecutive European Cups the club won from 1974 to 1976, beating Atlético Madrid, Leeds United and Saint-Étienne respectively in the Finals. A fifth trophy was added when they won the Intercontinental Cup in 1976. That 1970's generation instilled the winning mentality subsequent squads have aspired to, more often than not with success, and which is once again a trademark of the Bayern squad of the last few years.
Barcelona 2006-2011
The most current dynasty on this list, Barcelona have become synonymous with European success. The Catalan side enjoyed a period of domestic and European dominance from 2006 to 2011. Coached by Frank Rijkaard and Pep Guardiola, Barcelona claimed four league titles, five domestic cups, five European titles – including three Champions league titles, beating Arsenal and Manchester United twice in the finals – and two FIFA World Club Cups. Both Rijkaard and Guardiola encouraged a free-flowing, attack oriented strategy and the players helping Barca rise to prominence in this period included the likes of
Ronaldinho, Lionel Messi, Xavi, Andrés Iniesta, Samuel Eto'o, Victor Valdes, Gerard Pique, Danni Alves
and
Carles Puyol
.
AC Milan 1988-1994
This Milan dynasty is well known for two reasons; excellent defense and the influence of a Dutch trio of players. Milan's manager, Arrigo Sacchi, introduced the pressing game to soccer. This defensive method required a team to always attack the ball carrier, challenging the opposition and leaving little room for the opposition player to dribble or pass. This tactic could make it difficult to move the ball upfield and often led to turnovers which were exploited by Sacchi's team. The team contained the most impressive defence probably ever assembled, a hard-working midfield and flair players up front. The first team was raised to greatness by the trio of Dutchmen namely
Frank Rijkaard, Ruud Gullit
and
Marco van Basten
that had won the 1988 European Championships. By 1994 the team had changed in part, with other high profile signings replacing the original star players but with largely the same defensive foundation. They surpised critics by beating a brilliant Barcelona team 4-0 in the 1994 Champions League Final. Some of the other players to grace the Milan team of this era included:
Paulo Maldini, Franco Baresi, Carlo Ancelotti, Alessandro Costacurta, Zvonimir Boban, Dejan Savićević, Demetrio Albertini
and
Marcel Desailly
. With such weaponry at its disposal, this Milan dynasty claimed four league titles, four domestic cups, three European Cups/Champions League titles and two Intercontinental Cups.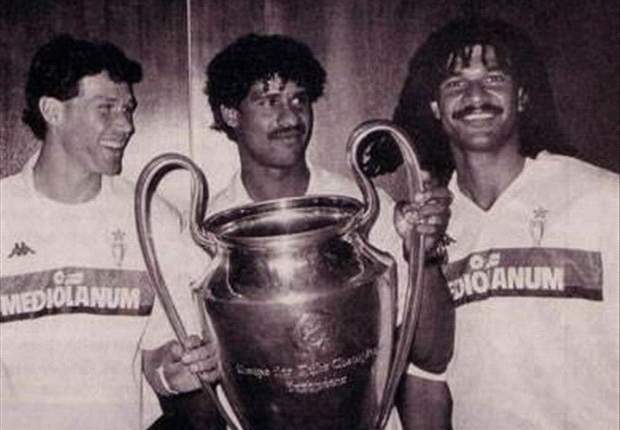 Marco van Basten, Frank Rijkaard and Ruud Gullit in 1989
Ajax 1970-1973
Much of today's football would not be what it is without the great Ajax side of the early seventies. Coached by the legendary Rinus Michels, the Dutch team introduced the world to the concept of 'Total Football.' This revolutionary method of football saw players interchange positions and move around the field in a fluid and seamless manner. Michels left to coach the Dutch national team, where he used the same system and the same core players. His work at Ajax was carried on in 1971 by new manager Ștefan Kovács. Helping implement 'Total Football' on the field were players like defender Ruud Krol, midfielders Johan Neeskens and Arnold Mühren and legendary midfielder-forward Johan Cruyff. In the span of just a few years, this team and its philosophy dominated Holland and Europe by winning three league titles, three domestic cups, three consecutive European Cups, beating Panathinaikos, Inter Milan and Juventus in the finals, and one Intercontinental Cup. Success proved Ajax's downfall as Cruyff and Kovács were lured away by Barcelona and the French National team, respectively, ending the dynasty in 1973. Ajax's approach to football notably influenced teams like Bayern Munich, Arsenal and Barcelona.
Cruyff, 1972 European Cup Final in Rotterdam
Liverpool 1977-1985
It is difficult not to put Liverpool in top spot and they only missed out by a narrow margin. From the late seventies to the mid-eighties, Liverpool were a domestic and European powerhouse. Bob Paisley managed the club until 1983 when his assistant Joe Fagan took over. Under their leadership, Liverpool secured four European Cups in 1977, 1978, 1981 and 1984, six League titles and nine domestic cups and trophies. Of course, management alone can not take all the credit, as Liverpool also benefited from the skills of players like
Ray Clemence, Alan Hansen, Phil Neal, Emlyn Hughes, Phil Thompson, Graeme Souness, Terry McDermott, Steve Heighway, Kenny Dalglish, Kevin Keegan
and
Ian Rush
. Unfortunately, Liverpool's dynasty came to a premature end with the Heysel Stadium disaster on 29th May, 1985. Following the death of 39 Juventus fans before the cup final, Liverpool supporters were blamed and UEFA banned all English clubs from European football indefinitely. In the 1991–92 season, Arsenal were the first team to represent England in the European Cup after English teams were allowed back in.
Real Madrid 1955-1960
The first true dynasty of the UEFA era, the Real Madrid team of the late 1950's was one of the best sides to ever take to the pitch. Although the club had a few managers during this period, the two most successful were José Villalonga, who remains to date the youngest coach to win the European Cup in 1956 aged just 36 and Miguel Muñoz, who won three European Cups as a Madrid player, captaining the side on two occasions, before managing them to European glory in 1960. Madrid's 1960 European Cup Final demolition of Eintracht Frankfurt was watched by a crowd of 127,621 at Hampden Park, and their 7-3 victory was considered by many to be one of the finest exhibitions of attacking football ever seen in Britain up to that point. The team of that era was blessed with an array of talent which included the likes of forwards
Alfredo di Stéfano
and
Héctor Rial
, midfielders
Ferenc Puskás
and
Raymond Kopa
, left-winger
Francesco Gento
, defenders
Marcos Imaz
and
José Santamaría
and goalkeeper
Juan Alonso
. Such talent has led many to believe that this was the first true Galáctico era in club history. Domestically, Madrid 'only' claimed three league titles during this dynasty. On the European stage, however, Los Blancos stood head and shoulders above everyone, winning five consecutive European Cups from 1956 to 1960. After 1960, Madrid's European dominance faded. By the time another European Cup was won, in 1966, much of the side which had dominated in the late 1950's had been dismantled.
Real
Madrid celebrate winning the 1956 European Cup Final in Paris