The 2013 FIFA Confederations Cup
, is an association football tournament for national teams, currently held every four years by FIFA and the 2013 competition will be the 9th tournament of its kind. It will be held held in Brazil from the 15th to 30th June, as a prelude to the 2014 FIFA World Cup.
It is contested by the holders of each of the six FIFA confederation championships (UEFA, CONMEBOL, CONCACAF, CAF, AFC, OFC), along with the FIFA World Cup holder and the host nation, to bring the number of teams up to eight.
The tournament was originally organised by and held in Saudi Arabia and called the King Fahd Cup (Confederations Winners Cup or Intercontinental Championship), contested in 1992 and 1995 by the Saudi national side and some continental champions. In 1997, FIFA took over the organisation of the tournament, named it the FIFA Confederations Cup and staged the competition every two years.
Since 2005, it has been held every four years, in the year prior to each World Cup in the host country of the forthcoming World Cup. Considered a dress-rehearsal for the World Cup it precedes, it uses around half of the stadia intended for use at the following year's competition and gives the host nation, who qualifies for that tournament automatically, experience at a high level of competition during two years of otherwise friendlies. At the same time, participation was made optional for the South American and European champions.
Brazil
is the most successful nation in the cup's history, winning the tournament a record three times in 1997, 2005 and 2009 and were also runners-up in 1999.
France
have won the tournament twice, in 2001 and 2003.
Argentina, Mexico
and
Denmark
have each won the competition on one occasion.
Brazil's players celebrate their Confederations Cup success in 2009 in South Africa
Generally, the host nation, the World Cup holders, and the six continental champions qualify for the competition. In those cases where a team meets more than one of the qualification criteria, another team is invited to participate.
Italy were awarded a spot in the 2013 competition because Spain had won both the 2010 FIFA World Cup and the 2012 UEFA Euro Championships. Since both competitions award their winners a place in the FIFA Confederations Cup, the runner-up of UEFA Euro 2012 received an invitation to the tournament.
2013 Qualified teams:
Brazil
- Hosts
Spain
- 2010 FIFA World Cup winner
Japan
- 2011 AFC Asian Cup winner
Mexico
- 2011 CONCACAF Gold Cup winner
Uruguay
- 2011 Copa América winner
Tahiti
- 2012 OFC Nations Cup winner
Italy
- 2012 UEFA Euro runners-up
Nigeria
- 2013 Africa Cup of Nations winner
Group A:
Brazil, Japan, Mexico, Italy
Group B:
Spain, Uruguay, Tahiti, Nigeria
Brazil and Japan open proceedings on Saturday 15th June at Brasília's Estádio Nacional while Spain and Uruguay raise the Group B curtain at Recife's Arena Pernambuco on Sunday 16th June.
Seventeen British-based players have been named in provisional squads ahead of the 2013 tournament, and they are as follows:
Spain:
Fernando Torres and Juan Mata (both Chelsea), Pepe Reina (Liverpool), Santi Cazorla (Arsenal), David Silva and Jesús Navas (both Manchester City).
Japan:
Shinji Kagawa (Manchester United) and Maya Yoshida (Southampton).
Uruguay:
Luis Suárez and Sebastián Coates (both Liverpool), Gastón Ramírez (Southampton).
Brazil:
Julio Cesar (QPR), David Luiz and Oscar (both Chelsea).
Mexico:
Javier Hernández (Manchester United,
right
)
Nigeria:
John Obi Mikel (Chelsea) and Efe Ambrose (Celtic).
All-time Confederations Cup top scorers:
Cuauhtémoc Blanco (Mexico) 9 goals
Ronaldinho (Brazil) 9 goals
Adriano (Brazil) 7 goals
Romário (Brazil) 7 goals
Marzouk Al-Otaibi (Saudi Arabia) 6 goals
Stadium Venues:
Six stadiums venues
are to be used, each in a different city. The Maracanã, Rio de Janerio (Capacity: 78,639), The National Stadium, Brasilia (Capacity: 72,000), The Arena Pernambuco, Recife (Capacity: 46,000), The Fonte Nova, Salvador
(Capacity: 50,433), Estadio Governador Magalhães Pinto, Belo Horizonte (Capacity: 62,160), The Castelão Arena, Fortaleza (Capacity: 63,903).
All the teams and and the players to watch out for in more detail:
Brazil:
(World rank 22) The Home squad is a wild card, simply because of its youth. Coach Felipe Scolari ignored veterans like Kaka and Ronaldinho, meaning that the pressure will shift to
Neymar
and
Leandro Damiao
. No one knows if this club is ready for prime time as Neymar has been inconsistent with his national team in recent outings. This is the first time he is facing major European competition in a tournament.
Italy:
(World rank 8) The Italians are in this tournament thanks to a second place finish at the Euro Cup. The team still sports grizzled veterans such as midfield general
Andrea Pirlo
and veteran goalkeeper
Gianluigi Buffon
, the Juventus and Italian nation team captain. It also includes a more mature
Mario Balotelli
(
right
) that has stepped up his game in recent months, since his January move back to Italy, scoring 12 goals in 13 games for AC Milan. This team is more youthful than Spain and that alone could propel them in this competition.
Uruguay:
(World rank 19) The two-time World Cup winners have been in steady decline since winning the 2011 Copa America tournament in Argentina. Uruguay's strength in recent years has been their attack and this tournament will be no exception.
Tabarez will have the luxury of choosing between
Luis Suarez, Edinson Cavani, Diego Forlan
and
Abel Hernandez
to front his team.
Spain:
(World rank 1) The defending World Cup champions are undoubtedly the stand out team in this tournament. They showcase much of the same roster that earned them the 2012 Euro Cup and will be hungry to reinstate Spain as the world's top soccer country after the dual embarrassments endured by Real Madrid and Barcelona in the Champions league.
Nineteen players remain in the squad from last summer's Euros, and 18 from the 2010 World Cup. The biggest question surrounding the team will be its forward situation. Manager Vicente Del Bosque won the Euro Cup without a striker. His top options include
David Villa
and
Fernando Torres
, but neither has been reliable over the last year.
Sergio Ramos
(
right
) is the defensive rock for 'La Roja,' allowing those in front of him to play with freedom.
Japan:
(World rank 32) The Samurai's have steadily improved their status in World Soccer and enter the tournament with qualification for the 2014 World Cup all but secure. CSKA Moscow's
Keisuke Honda
and manchester United's
Shinji Kagawa
pulls the creative strings in the Japanese midfield. They are drawn into a group with Spain, Tahiti, and Nigeria - this alone gives them a huge advantage in this tournament moving forward.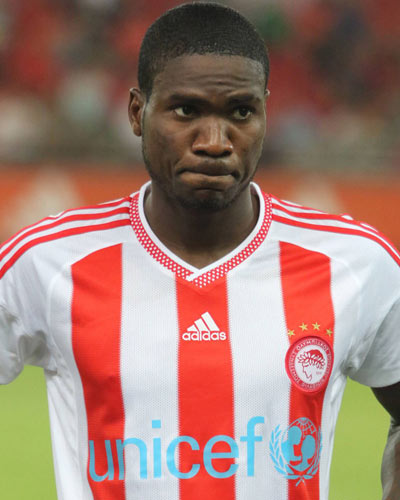 Nigeria:
(World ranking 31) The 'Super Eagles' have experienced something of a renaissance in the past two years under manager Stephen Keshi. winning the 2013 African Cup of Nations in February with a 1-0 victory over Burkina Faso in the final.
They are also well-placed in their quest for a 2014 World Cup berth, heading Africa's Group F with eight points from four matches in the second round of qualifiers. Nigeria's Confederations Cup squad includes Chelsea midfielder
John Obi Mikel
, Maccabi Tel Aviv goalkeeper
Vincent Enyeama
and Dynamo Kiev forward
Brown Ideye
(
right
) who notched 21 times for the Ukrainian outfit this season. With with 'Africa Cup of Nations' top-scorer Emmanuel Emenike injured, Ideye needs to shine!
Mexico:
(World rank 17) 'El Tri' have been terrible in CONCACAF competition, but still sports a team filled with elite players like
Javier Hernandez
,
Giovanni Dos Santos
and Cruz Azul's
José Corona
, who captained the victorious Olympic squad and has established himself as Mexico's number one goalkeeper. The team needs those three to step up as the squad's recent performances in qualifying have not been promising or inspiring.
Tahiti:
(World rank 138) The tiny Pacific island-nation earned a ticket to Brazil with a 1-0 victory over New Caledonia in the 2012 Oceania Nations Cup.
Steevy Chong Hue struck the winning goal and became a national hero overnight in a country renowned more for its idyllic beaches than football.
Tahiti's side is made up mostly of amateurs but coach Eddy Etaeta has insisted the team will be no walkover for their Confederations Cup rivals. However it is highly unlikely Tahiti will makes it out of a group stage. A win would be considered a major success for this team. Their goalkeeper
Xavier Samin
will play a crucial role if Tahiti want to avoid any humiliating defeats.
The 2013 Confederations Cup: My predictions and the official betting:
Brazil wound up in the toughest group of the competition, Group A. Many believe Italy will take down the other teams in the group stage, but based on other European nation's previous performances in this competition, on paper at least, things do not bode well for the 'Azzurri.' The Mexican side is dangerous, but has been madly inconsistent in its World Cup qualifiers. Japan has been terrific in its qualifiers, but has not faced the level of competition that Group B will pose. The Brazilians are still a work in progress and could finish anywhere from fourth to first in this group depending on whether the other sides in the group turn up! However I expect both Brazil and Italy to finish to qualify from their group.
While Group A is the proverbial "Group of Death," Group B is anything but that. The group could best be described as "Spain versus Everyone else." Uruguay is no longer the team that captured third place in the World Cup three summers ago or the squad that won the 2011 Copa America. This is a team that has yet to win a World Cup qualifier since September 2012. Nigeria might pose the greatest danger in the group. They do possess great pace, but they lack the skill and style to hurt the Spaniards. Spain will undoubtedly win the group while Nigeria I feel will likely grab second spot.
If these scenarios play out then Brazil will Nigeria and Spain will face Italy in the semi-finals. Brazil should have no trouble with Nigeria but Italy could pull the upset on the Spaniards. Prior to their 2012 Euro Cup victory last summer, Spain had not beaten Italy in open field play in many years. Look for Italy to pull an upset.
If Brazil faces Italy, the 'Samba Kings' should have no trouble capturing their fourth Confederations Cup trophy.
Betting:
Brazil
at
11/8
are favourites to win the 2013 tournament, followed by
Spain
13/8
,
Italy
7/1
,
Uruguay
9/1
,
Mexico
11/1
,
Nigeria 33/1
then
Japan 40/1
.
Tahiti
are the rank outsiders. In fact you can name you're price! However I believe there are better value betting options to consider than just Brazil to win the tournament outright.
My Best Bet:
Brazil and Italy to reach the Final 5/1
Outside Bet: Japan to qualify from Group A 5/1
Mario Balotelli (Italy) to be tournaments top goalscorer 16/1
Longshot:
Brown Ideye (Nigeria) to be to be tournament top goalscorer 80/1 (Top three 1/4 odds)
# Odds courtesy of Betfred and correct at time of writing.
Go to
oddschecker
for all your FIFA Confederations Cup betting.
Live TV coverage
of The FIFA Confederations Cup will be shown on BBC1 and BBC3 and also on ESPN, ESPN2 and CBCSports.
See here for full
TV schedule
of matches and kick-off times in the UK.