1st shade:
Sir Alex Ferguson's decision to personally recommend David Moyes as the new manager to replace him was a mistake. Instead of hiring someone who had a better or different skill set, Ferguson selected a fellow Scot with a fiery temper. Both men were brought up in the same area of Scotland - Glasgow, and had a mutual respect and understanding of each other. By recommending Moyes for the job, Ferguson selected someone that was his safest bet.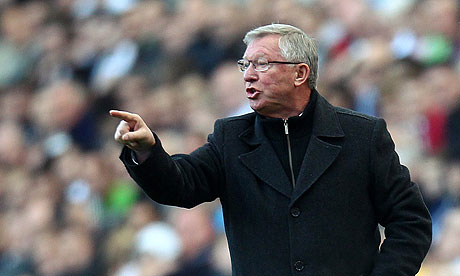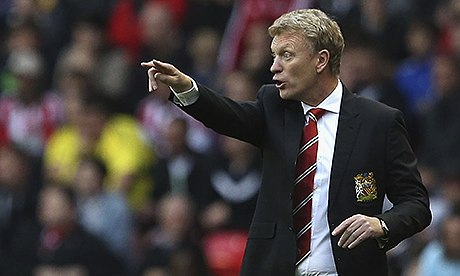 Men in the Mirror - Ferguson and Moyes
2nd shade:
By letting Manchester United coaches Rene Meulensteen, Mike Phelan and Eric Steele leave United, against Sir Alex Ferguson's advice, Moyes brought in his own Everton coaching staff including Jimmy Lumsden, Steve Round, Phil Neville and Chris Woods. Manchester United had no comfortable transition from one manager to the next. All of the expertise and inside knowledge of Meulensteen, Phelan and Steele was irreplaceable. Due to Moyes's overconfidence in his own ability, Ferguson's legacy and system were destroyed in one fell swoop!
Moyes could still have brought in Lumsden, Round and his fellow coaches from Everton without immediately getting rid of the previous coaches. They could have worked in an advisory capacity or alongside them for several months. This would have enabled Moyes and his own backroom team to get a true understanding and inside knowledge of what made United tick so successfully!
3rd shade:
Despite winning the 2012/13 Premier League title, Sir Alex Ferguson had covered over the weakness of the team for the past two to three years. Instead of pressurising the owners to bring in more talented players, Ferguson used all of his experience and man-management skills to get the most out of his ageing squad, without spending extortionate amounts of money in the transfer market. Ferguson brought players back from retirement or who were on their last legs to fill holes in his side. Paul Scholes and Henrik Larsson are just two examples. The reality is that Ferguson handed Moyes a side that was in much need of rebuilding.
Larsson and Scholes - 'The Comeback Kings!'
4th shade:
After the news came that David Moyes was going to become the Manchester United manager before the 2012/13 Premier League season had even ended, Moyes had to somewhat awkwardly continue on as Everton boss until the season came to an end on 12th May, before he could settle into the Old Trafford hot seat.
Instead of using this valuable time to focus on the summer transfer market, Moyes instead chose to head off on vacation and only returned to Manchester United on 1st July. Moyes in hindsight may have regretted the timing of his family vacation, given that the first United friendly of the summer was in Thailand less than two weeks later. As a result this did not give him much time to concentrate on securing those much needed new signings.
5th shade
The summer transfer window of 2013 was a crucial period for United to strengthen in key positions. Unfortunately for United, chief executive David Gill left the club at the same time as Sir Alex. His replacement, Ed Woodward, who had a background in accounting, was not active enough to make the transfer signings that the club so desperately needed. Instead, Manchester United made a 'panic buy' on transfer deadline day, spending £27.5 million on Marouane Fellaini, when United could have signed him for £4 million less just weeks beforehand.
In addition, United failed to sign midfielder Ander Herrera from Athletic Bilbao or Fellaini's former Everton team mate Leighton Baines. Central midfield and left-back were key positions that United desperately needed to strengthen so in last summer's transfer window Manchester United failed to resolve the areas of the squad that needed to be reinforced the most — a creative midfielder alongside quality defensive cover.
6th shade:
Every single time Manchester United lose, draw or put in a poor performance, the camera zooms in to catch Ferguson's reaction immediately after the referee blows the full-time whistle. As long as Ferguson is in the stadium, the focus will be on Ferguson, and how Moyes is not performing at the same level as his predecessor. The sooner Ferguson finds a new Saturday afternoon hobby or watches matches in the comfort of his own home, the better it will be for the current boss. Ferguson by being in the stands is not helping Moyes or Manchester United one iota.
Sir Alex Ferguson looks on from the Old Trafford stands
7th shade:
While much has been said of Manchester United no longer being a team to fear at Old Trafford, I'd argue that the problem is more severe. The main concern is not that teams no longer fear United, but that Manchester United players no longer fear the manager, or give him the respect he deserves.
While it's difficult to know for sure what's happening inside Old Trafford, the body language and reaction of the Manchester United footballers now that Ferguson has gone has altered dramatically. The players look as if they do not fear Moyes in the same way as they did Ferguson. Granted Ferguson is a United legend who spent 27 years at the Club and Moyes has only had his feet under the table for just nine months, but we have already seen instances of improper player conduct since his arrival.
"Roberto this is Marouane, can I come back to Everton?"
We have witnessed former captain Rio Ferdinand laughing behind Moyes's back during a game, and going public to share his frustration with Moyes's methods and Marouane Fellaini on his mobile phone texting, while sitting in the stands at Old Trafford.
These are instances that Sir Alex Ferguson would have not tolerated. But more importantly, these are instances whereby the players would have never acted in this manner in the first place if Ferguson was still in charge.
8th shade:
One of David Moyes' most mystifying stances since taking over as Manchester United manager continues to be his handling of Wilfried Zaha. Let's not forget that Manchester United paid £10 million up front to Crystal Palace this time last year to acquire Zaha and could pay an additional £5 million if certain clauses are met. That's a fairly significant sum to spend on a player only to sit him on the bench each and every week. It's almost as if Moyes is trying to stamp his authority on the club by 'making an example' of one of Sir Alex Ferguson's last signings. That way, nobody questions who's running Manchester United.
There was talk about Zaha dating Moyes' daughter Lauren, but that seemed to be a more fanciful suggestion for why he wasn't getting in the first team.
Wilf Zaha - Serial bench warmer under David Moyes
The argument could be made that he lacks the experience to start regularly for a team you would normally expect to be vying for a top-four spot in the Premier League, yet his current club isn't willing to let him gain that experience. If this is Moyes' viewpoint, it would seem extremely hypocritical. It's not as if Adnan Januzaj had a wealth of experience before breaking into the first team. What's the excuse for not playing Zaha?
What's worse is that Ashley Young and Nani have both been far from impressive this season. Nani is his usual hot-and-cold self, when he can actually get on the pitch and Young has turned into a shell of his former self.
Zaha is clearly a talented player, and impressed during United's pre-season tour of Asia, but you'd never guess as much by looking at his Manchester United career statistics.
Unsurprisingly Moyes allowed Zaha to move to Cardiff City on loan in January for the remainder of the season. At least he is getting some Premier League game time under his belt at the Welsh club.