In Britain 'caps' are awarded to players making international appearances for England, Scotland, Wales and Northern Ireland. It is a tradition dating back to the origins of the Football League in the Victorian age, when during games players routinely wore caps denoting club colours. The concept of each team wearing a set of matching shirts had not been universally adopted.
When the first international match took place in 1872 players wore caps, as was the norm. When outfield players ceased to wear caps some years later, representing one's country at football continued to be marked by the symbolic presentation of a cap.
The first caps were awarded to the players who participated in the Scotland v England international on 31st March 1886 in Glasgow.
Peter Shilton
is the most capped England player of all time. The goalkeeper holds the record after playing 125 games for his country, including fifteen as captain. His last appearance was at the 1990 World Cup finals in Italy.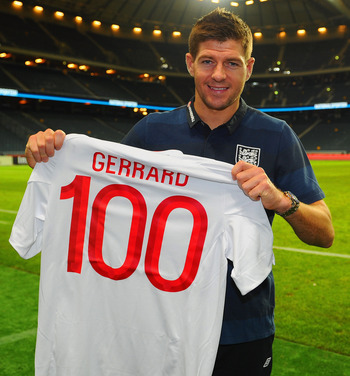 Six England players are centurions with 100 caps or more. As well as Shilton they are
Bobby Moore, Bobby Charlton, Billy Wright, David Beckham
and most recently
Steven Gerrard
(right).
Of
Billy Wright's
105 appearances for England, he captained the side on 91 occasions.
Ahmed Hassan
(born 2 May 1975 in Maghagha, Egypt) is the most capped international male footballer in history with 184 appearances for Egypt.
On 30th May 2006,
Theo Walcott
became the youngest player to make his England debut, when he came on as a substitute against Hungary at the age of 17 years and 75 days.
The youngest player to be awarded a cap for Wales is
Gareth Bale
, (then of Southampton), who on 27th May 2006, aged 16 years and 315 days appeared as a substitute against Trinidad & Tobago.
The youngest British player ever to be awarded a
full
cap is
Norman Whiteside
who was 17 years and 41 days old when he made his debut for Northern Ireland against Yugoslavia on 17th June 1982 at the World Cup finals. He still holds the record as the youngest player to take part in a World Cup final tournament.
The oldest player to participate in a World Cup finals tournament was Cameroon's
Roger Milla
, who was 42 years and 39 days at the 1994 finals held in the USA. Cameroon were knocked out in the group stages, however Milla (right) scored a goal against Russia, setting a record as the oldest goalscorer in a World Cup finals match.
The oldest player to receive his first England cap is
Alexander Morten
, a goalkeeper with Crystal Palace, who was 41 years and 113 days old when he kept goal against Scotland on 6th March 1873.
The oldest player to have been capped by England is
Sir Stanley Matthews
, who was 42 years and 103 days old when he played against Denmark on 15th May 1957.
Jack Cock
(Huddersfield Town) was the first Cornishman to be capped for England in 1920. Cock went on to become a popular variety star and also appeared in a number of British films.
The first Fourth Division player to win an international cap was
Vic Rouse
(Crystal Palace) for Wales against N.Ireland in 1959.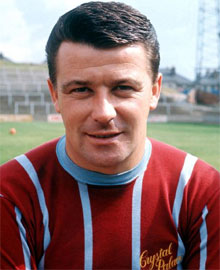 Johnny Byrne
(right) won his first cap for England in 1962, while paying for Crystal Palace in the Third Division.
Tommy Lawton
(Notts County),
Reg Matthews
(Coventry),
Peter Taylor
(Crystal Palace) and
Steve Bull
(Wolves) also gained England caps while playing their football in the Third Division.
Cecil Moore
(Sheffield Utd) was capped for Norther Ireland in 1949, emigrated to America, and appeared for the USA against England in 1953.
Johnny Carey
(Manchester United, 1938-53) won 29 caps for the Republic of Ireland and seven for Northern Ireland.
Kevin Keegan
was awarded his first England cap against Wales on 15th November 1972. His second cap was also against Wales (24th January 1973), as was his third (11th May 1974). He remains the only player to have played his first three games for England against the same opposition.
Gary Howlett
(Brighton) travelled to the other side of the world to earn his first international cap and played for only 19 minutes. On the 3rd June 1984, Howlett was named as a substitute for the Republic of Ireland against China which was taking place in Sapporo, Japan,. Nineteen minutes from time he came on, but was never chosen to play for the Republic again.
James Milner
(right)
with 46 appearances and nine goals is the most capped England Under-21 International of all-time.
The only player to win both semi-professional and full caps for England is
Steve Guppy
. Guppy was chosen for the England semi-professional team while playing for Wycombe Wanderers in the Conference in 1989/90 and in 1999, when at Leicester City, he won his first and only cap for England against Belguim at the Stadium of Light.